Contemporary Ceramic Sculptures and Drawings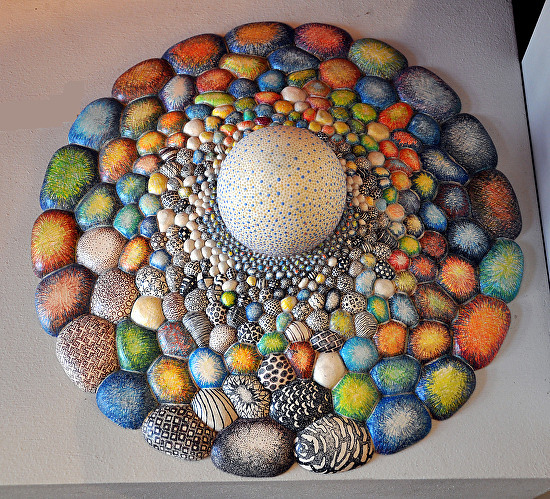 Duane Ewing is an accomplished artist with a unique and sometimes irreverent style. His three-dimensional works and intricate improvisational ink drawings explore connections between life, nature and the universe; the relationship of time and timelessness; and personal movement on the spiral to perfection.
Duane has had a lifetime passion for art, especially ceramic sculpture. "When one first comes upon a wet, cold lump of clay, one wonders how this inert material can be transformed into anything beautiful or useful. But the instant the artist puts fingers into the mass it begins to do his bidding. It becomes an extension of the artist; his ideas, his feelings, his aesthetic."
After meticulously carving the design in the clay, Duane bisque fires the piece. Then multiple layers of colored glazes are applied one dot at a time. After a final firing the one-of-a-kind piece is ready to exhibit. Duane uses the same technique in his ink drawings both consciously and subconsciously combining thousands of tiny dots to create subtle shadings. He explains, "As I start to lay down the dots I get more ideas and the drawing develops as it goes along." Adding graphic lines and, at times, colored ink, takes the work to another level.